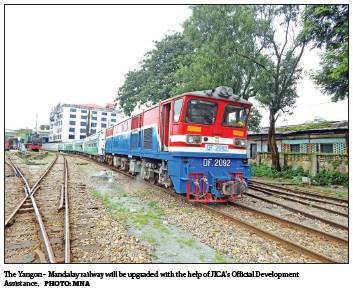 Yangon-Toungoo railway to be upgraded starting on 1st October


Yangon–Mandalay railway, which is 385.5 mile long, would be upgraded with the help of JICA's ODA ( Official Development Assistance) for the convenience of travellers by train. The project is reported to cost US$ 2.4 billion. Ministry of Transport and Communications reported that the first phase of the project, Yangon- Toungoo section, is 166 mile long, and it will be started on 1st October.
As the Yangon- Mandalay railroad is too long and costly to update all at once, it will be carried out in two phases. Phase-1 is 166 mile long Yangon- Toungoo section and phase-2 is 219.5 mile long between Toungoo and Mandalay. General Manager (Inspection) of Myanmar Railway, U Ba Myint said that for the Phase-1, 6000 ton worth of rail will be used, and it is estimated to cost 91.921 billion Yan.
Three contractors will start removing rails on 1st October for the phase one. The posts are CP 101 ( Puzundaung-Bago),CP 102 ( Bago- Nyaunglebin) and CP 103 (Nyaunglebin—Taungoo). During the project, instead of up and down system, training travelling in both direction will share a single track. There will be 12 Yangon-Toungoo railway to be upgraded starting on 1st October phases, and the stations will be updated too. With JICA's ODA, the railway embankments and rails will be upgraded along. Ten stations between Yangon and Mandalay will be rebuilt.
The other 85 stations will be renovated step by step with the arrangement of Myanmar Railway. In Mandalay railway upgrading project, 96 station platforms will be raised to the height of train step, and they will be extended from 400ft to 800ft. The signal will be changed to electrical system. Alarm system at level crossings will be installed as well. —MNA (Translatedby Alphonsus)